Moving to Geneva: Expat Arrival Guide
You are looking to move to Geneva and are feeling overwhelmed ? Whether you are coming to find a job or following your loved one, let's take a look at tips and information you need to know before your arrival. From the cultural and historical facts to the administrative procedures, we'll tell you everything there…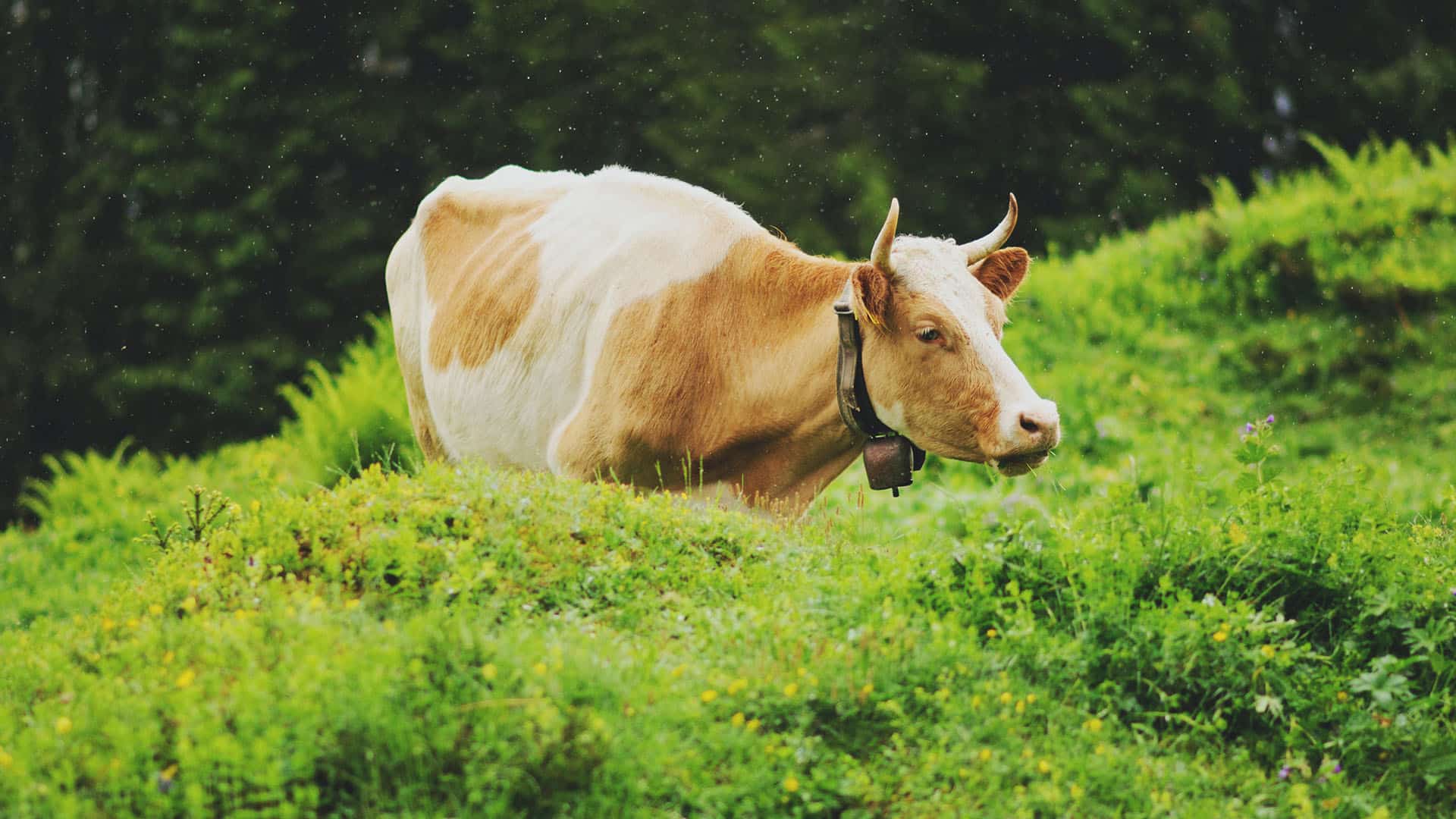 You are looking to move to Geneva and are feeling overwhelmed ? Whether you are coming to find a job or following your loved one, let's take a look at tips and information you need to know before your arrival. From the cultural and historical facts to the administrative procedures, we'll tell you everything there is to know.
Geneva, an International City
Geneva is a multicultural and unique city. Known worldwide, she stands out thanks to its diversity and quality of life. Yet, do you truly know this city and what it has to offer?
The Treasures of Geneva's History and Culture
When you move to a new city or country, the first step is to get to know the local culture. Learn about the habits and history of your new environment. Most of the time it takes around 4 to 5 years to feel immersed in the Swiss culture. Which is very specific compared to its Latin neighboring countries. Learning more about Geneva and Switzerland will make your adjustment to your new life much easier.
The Most Cosmopolitan Canton in Switzerland
Located in the center of Europe, Geneva is a multicultural city. There are approximately 190 different nationalities in the canton. In 2018, 40% of the inhabitants of the canton of Geneva were of foreign nationality. The four largest foreign communities come from the following countries: Portugal, France, Italy and Spain. Whenever you are feeling homesick, you will be able to find various events or activities organized by expatriates, who gather regularly. The canton of Geneva stands out from most other cantons because of this mix of cultures and nationalities.
Bonjour ! Hello! Boa tarde! Holà ! Buongiorno !
If you want to fit in, an important aspect not to be overlooked is communication. Whether you want to shop, or make connections, you need to be able to express yourself and listen. In Geneva, the most common language is French, followed by English, not forgetting Portuguese, Spanish and Italian.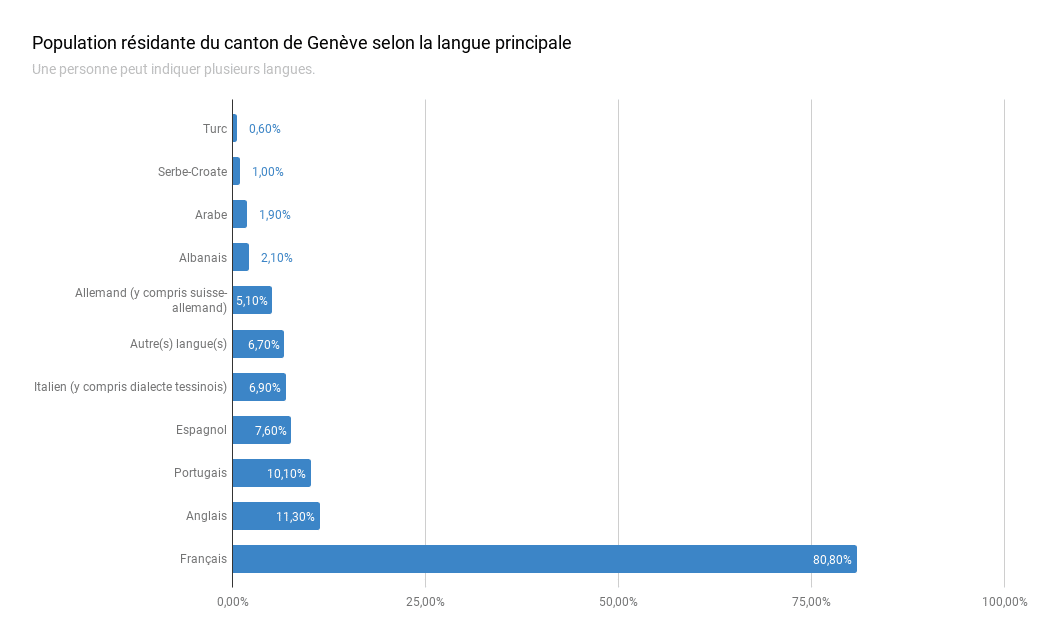 Parlez-vous français ? Learning French is necessary for your everyday life. It is an effort that you can make that in the end will help you a lot.
For language courses we recommend:
Let's talk about the people of Geneva
There are many prejudices about the people of Geneva: "It is not easy to gain their trust" "they speak slowly and have a strange accent" "they are not welcoming".
It is important not to focus on these opinions, develop your own impression, do not focus only on the messages (forum, articles…) that you can find online. These experiences can be very positive or negative, but will rarely correspond to your reality. There is nothing better in this case than to live the situation, without any preconceptions, which may distort your perception and lead to inappropriate behavior.
A Diversified and High Quality Transport Service
To get around Geneva you will not need a car as the transport service in Geneva is of high quality. You can easily move from one district to another thanks to TPG's multiple bus and tram lines.
The rail network allows you to travel throughout Switzerland, but also to neighboring countries such as France. Geneva is very well positioned, the airport is close to the city center, many destinations are available, so you can easily travel abroad.
Is it possible to find an apartment in Geneva ?
Moving to Geneva is not easy, if you want to find accommodation, you must be ready to embark on a treasure hunt, facing many candidates and with few elected officials. Few apartments are available, and your application will face strong competition.
Is it easy to become a tenant ?
In Geneva, the number of apartments available for rent is much lower than the number of applications. Finding accommodation takes a lot of time, but above all it requires you to be very reactive. The apartments are rented in a few days or even a few hours. As a result, visiting hours are not necessarily flexible, and are very often organized in groups. As of June 1, 2018, the vacancy rate for apartments in Geneva was only 0,53%, or 1,222 units available. Geneva is among the lowest cities in the ranking, the rate in Switzerland is 1,62%.
All the Documents You Need for Your Application
If you take up the challenge of looking for accommodation in Geneva, make sure that your application is complete. To find an apartment in Geneva, you must be quick and well prepared. Here you have a document with all the information useful when renting an apartment in Geneva.
Apartment Hunters
Looking for an apartment can be exhausting and discouraging. One solution can be working with an apartment hunter. These professionals relieve you of the research phase, organize visits, send your file, etc. For a reasonable amount, the price usually corresponds to one month's rent. If your apartment hunter finds you an apartment with a rent of 1,900 CHF, his service will cost you 1,900 CHF. You define the criteria (number of rooms, districts, rent price, etc.) and your apartment hunter takes care of organizing everything for you.
Rent Costs
Don't be surprised, being a tenant in Geneva has a cost. Rents are constantly rising, mainly due to the gap between supply and demand. The average rent for a 4-room apartment (2 bedrooms, 1 kitchen and 1 living room) is from CHF 1,900 to CHF 2,100. To cope with these high prices, it may be interesting to think of solutions such as sharing an apartment with roommates, in order to divide the rent, but also the charges. Rent corresponds on average 15,7% of a household's monthly expenses in Switzerland.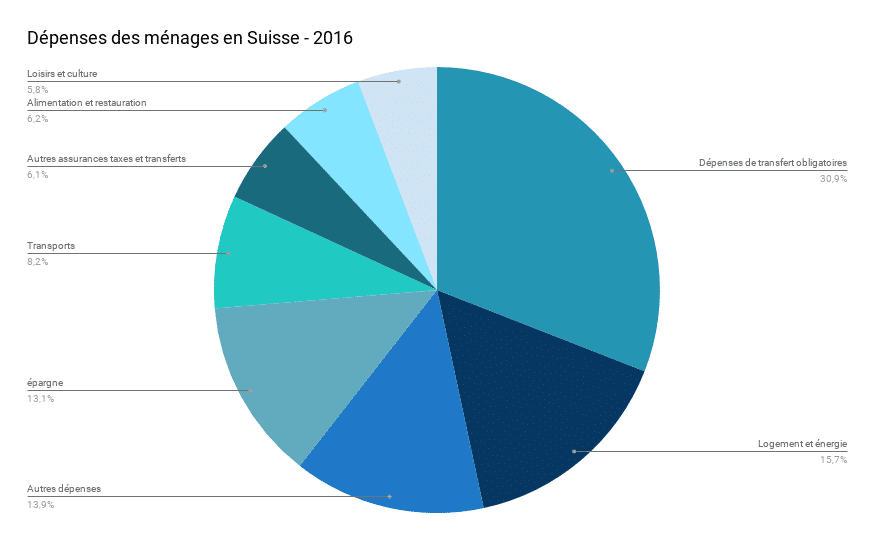 To balance your expenses, don't forget to get organized and learn about solutions that will help you save money.
Living at the border for a start
Sometimes it can be complicated or time-consuming to obtain all the necessary documents, in particular the work permit, in order to be able to rent in Geneva. Many people have chosen to live in neighboring France, as a border worker, while they settle, receive their work permit or find a job. If you come from a European Union country, it is generally easier to find accommodation on the other side of the border.
Tip
if you have managed to find an apartment, first of all, congratulations! Then, if you don't know it yet, b-sharpe allows you to make some of your payments, including paying your first rent. This way, you don't have to rush to a Swiss bank account, you have time to get started and settled at your own pace.
How to Deal With Administration Procedure Without Stress
An application for a work permit, health insurance, taxes, when you move to a new country there are many administrative procedures. Here is the essential information to make your requests with complete peace of mind.
Bank and Currencies
When you settle in Geneva, you will need to open a Swiss bank account. You will have the choice between many banks, offering quality services.
Regarding your need to exchange currencies, there are several solutions available to you: exchange offices, your bank, or even online exchange services.
The Work Permit
When you find a job in Geneva, it is mandatory to apply for a work permit. As an expatriate, the corresponding permits are the B permit or the L permit depending on the duration of the employment contract. You can find all the information you need to apply for a permit on the official website of the Canton of Geneva: https://www.ge.ch/en/welcome-geneva
Regardless you are an EU citizen or not, you will have to ask for the same work permits. On the other hand, the conditions for granting these work permits differ considerably if you come from the EU or not.
Your employer is in charge of making the administrative request before your arrival.
Choosing a Health Insurance in Switzerland
For all residents of Switzerland, health insurance (LAMal) is mandatory. As soon as you arrive in Geneva, you have a period of 3 months to take out insurance with an authorized health insurance company of your choice. These 3 months are retroactive, you have no interest to wait in order to justify your membership in the health insurance. If you do not respect this deadline, you will have a sanction. Here is a link that contains all the necessary information about choosing the insurer.
Tax Return
If you have a B or L permit, your taxes are deducted directly at source. Your employer therefore deducts from your salary every month the amount of tax corresponding to your contribution to cantonal and municipal tax and direct federal tax.
Goal: Break the Ice With the People of Geneva!
As an expatriate, an important and difficult task is to build a network. The languages you speak or know where to look for activities, meetups, can help you expand your social circle.
Where to Find Events in Geneva ?
Several platforms allow you to find activities, in order to meet people:
Many expatriate groups or events are also available on Facebook.
Spend time outside
When you move to a new city, a new country, your comfort zone can be challenged. The real secret to integrating in Switzerland is to participate in local life. The role of the individual in the community is given great importance. Find out about events and associations in your community and get involved in local life.
Making Swiss Friends
Be careful, however, not to limit yourself only to groups of expatriates and stay with people who speak the same language as you or who come from the same place as you. Find out about local events in your neighborhood or city. If you look carefully, you will find events such as the food truck festival, the Christmas market in the Parc des Bastions, the Fête de l'Escalade Festival with the famous marmite de l'Escalade, or the Escalade Run for example.