The Swiss online currency exchange company
To save both time and money, with the peace of mind of a fair and transparent rate and Swiss quality and expertise. All this online and for free!
b-Sharpe rate:
Operating costs: 0 CHF
Expected date of receipt of funds:
2020-09-29 (24h)

Simplify your foreign exchange transactions
Foreign exchange transactions in more than 20 currencies
Exchange of salary or pension in the currency of your choice
Immediate currency exchange 100% automated and programmable
Rate lock for your foreign currency payments
A premium support devoted to assist you
Foreign exchange experts available to answer any questions you may have
Simple and transparent exchange service
2. We exchange the funds in real-time
As soon as we receive your funds, we perform the exchange in real-time by applying our preferential exchange conditions.
For amounts below CHF 5'000, a transaction fee of CHF 5 is applied.
3. You receive your money
Your money is immediately transferred to you. You receive it the same day or the next business day.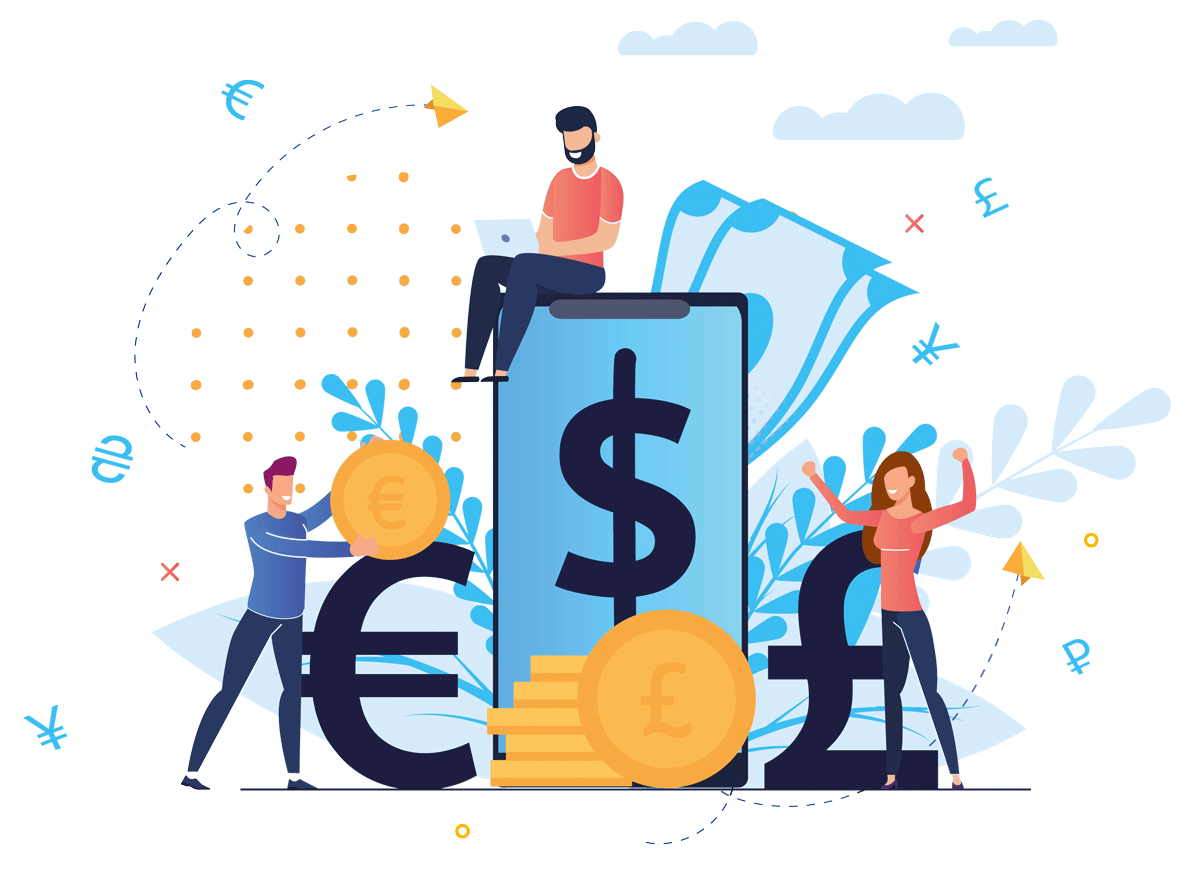 Sign up for free in less than 3 minutes!
Registration is done online, with no subscription or commitment, to allow you to make your currency exchange transactions right away.
A guaranteed excellence in numbers
More than
CHF
0
saved by our customers
A total of CHF
0

bn

exchanged
More than
0

customers

satisfied

Our goal is to make excellence accessible to all.
b-sharpe is the Swiss currency exchange specialist. The service was born out of the realization that the quality of service and the exchange rates provided were not the same for everyone.
The company's objective was to offer a quality foreign exchange service to all, run by experts in currency exchange while offering an attractive and 100% transparent rate.
Building a relationship of trust with you
Transparency
More than a value, transparency is our purpose. We give you full visibility on the calculation of the proposed rate, as well as on any additional charges that may be applied. 
Expertise
Making our financial and operational expertise accessible to everyone is one of our founding values. Whichever your request, our customer service and our experts will be there to support you in your foreign exchange transactions.
Ethics
We are proud to offer a fair service that has been developed and that continues to evolve, made by humans, for humans.
Always available to offer you the most suitable solution
Proximity
From Geneva, we strive to always remain available and in touch with each of our clients. Despite our growth, the quality of our service continues to improve.
Simplicity
Our goal is to constantly improve our services and tools to make your foreign exchange transactions easier.
Innovation
Innovation is at the centre of all our discussions. We constantly seek to improve in order to offer you the best possible service.
Promoting Swiss expertise and quality
We are proud to offer you the benefit of our knowledge and Swiss quality in the services we provide.
b-sharpe is evolving, its values remain the same.
Since its creation, b-sharpe has continued to develop and evolve in order to offer increasingly efficient solutions for our customers.
Customer satisfaction has always been our priority.
2006
Creation of b-sharpe
b-sharpe was created in 2006 and offers an institutional consultancy service on exchange rate management.
2013
Launch of the foreign exchange offer
b-sharpe finally becomes a foreign exchange platform and offers currency exchange services at preferential rates, open to all, with direct access to the expert who will process the transaction.
2015
The SNB abandons the floor rate
The end of the floor has led to a strong awareness of exchange rate issues amongst individuals. Our service, which was then mainly used by businesses, experienced strong growth among individuals. 
2016
Our first Web App
We launched our first online foreign exchange application available to all our customers to help them manage their foreign exchange needs. 
2017
A small leap for technology, a big step for comfort
We can finally offer our customers the possibility to validate their identity online and send us their signed contract in digital format. 
2019
Migros Genève & b-sharpe establish a strategic alliance
Migros Genève enters the capital of b-sharpe to accelerate the development of the online foreign exchange service. 
The electronic signature for the b-sharpe contract is finally available on registration.

2020
Many more developments to come...
Without revealing everything, a lot of novelties are to be expected this year!
On the agenda: a mobile application, a brand new web interface, several new technologies and some nice surprises expected very soon.
Sign up for free in less than 3 minutes!
Registration is done online, with no subscription or commitment, to allow you to make your currency exchange transactions right away.