How to make a transfer from your PostFinance account
If you want to make a foreign exchange transaction with b-sharpe, and you have a PostFinance account, you must first make a transfer from your PostFinance account to the b-sharpe account. The easiest way is to use their e-Finance service (available in Desktop and mobile version).
Prerequisites:
you have created your b-sharpe account (if not, click here)
your b-sharpe account has been validated (if not, click here to complete)
you have entered the recipient bank account in your client area
For simplicity, we show an example here of a transfer from a Swiss franc account to the b-sharpe Swiss franc account.
How the PostFinance payment interface works
PostFinance offers a simplified interface: you make a simple transfer, and at the end of the process the system offers you the option tosave the payment template for the next transactions of the same type (which saves you from having to enter the banking information (IBAN) of the recipient account each time), and to create a standing order (if you want to fully automate the payment of the amount on the b-sharpe account).
How to make a simple transfer on PostFinance e-banking
Go to the home page of the PostFinance ebanking service,
Click on "Transfer" then enter the b-sharpe IBAN in the "Recipient" field of the window
The system will then ask you to click on "Enter domestic service payment"


On the domestic service entry page, indicate:
the account you would like to debit (your CHF account)
the b-sharpe account to be entered in the "recipient account"field. . In principle, the recipient's bank details should appear; if not, fill in the field using the information you have downloaded from your b-sharpe client area.
the amount to be transferred (this amount may be changed for future transfers if you use the payment template)
the due date (which represents the date on which you would like to send the funds).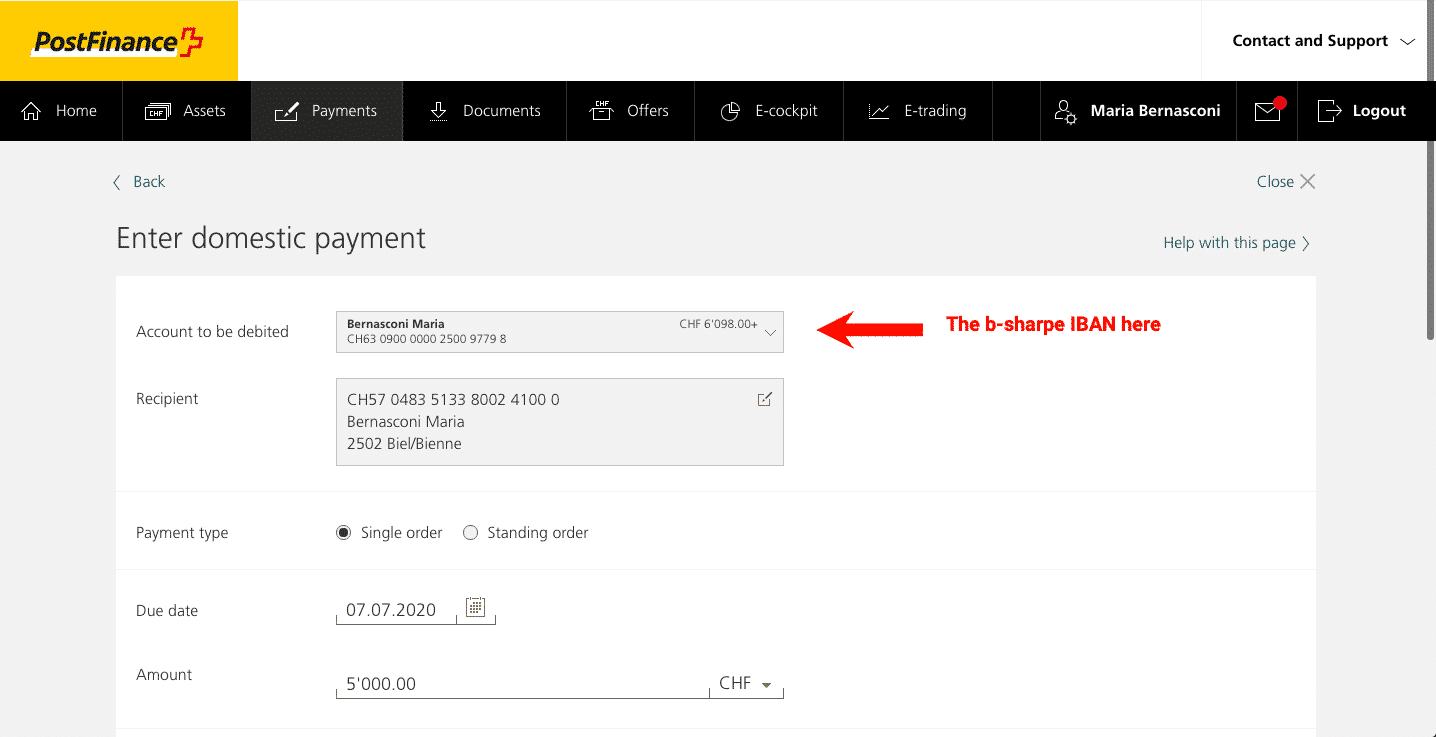 In the "Message/Accounting text" field, add the b-sharpe client code starting with C followed by a series of 7 digits, as well as your last name and first name (by entering this information, you will speed up the processing of your foreign exchange transaction as this is fully automated).
Name your payment template so you will be able to find it more easily later on
Multiple debit attempt: by activating this option, the bank will attempt to debit your account later in the event of an insufficient balance.
Create a payment template: this very practical option allows you to create a reusable payment template for your future transfers.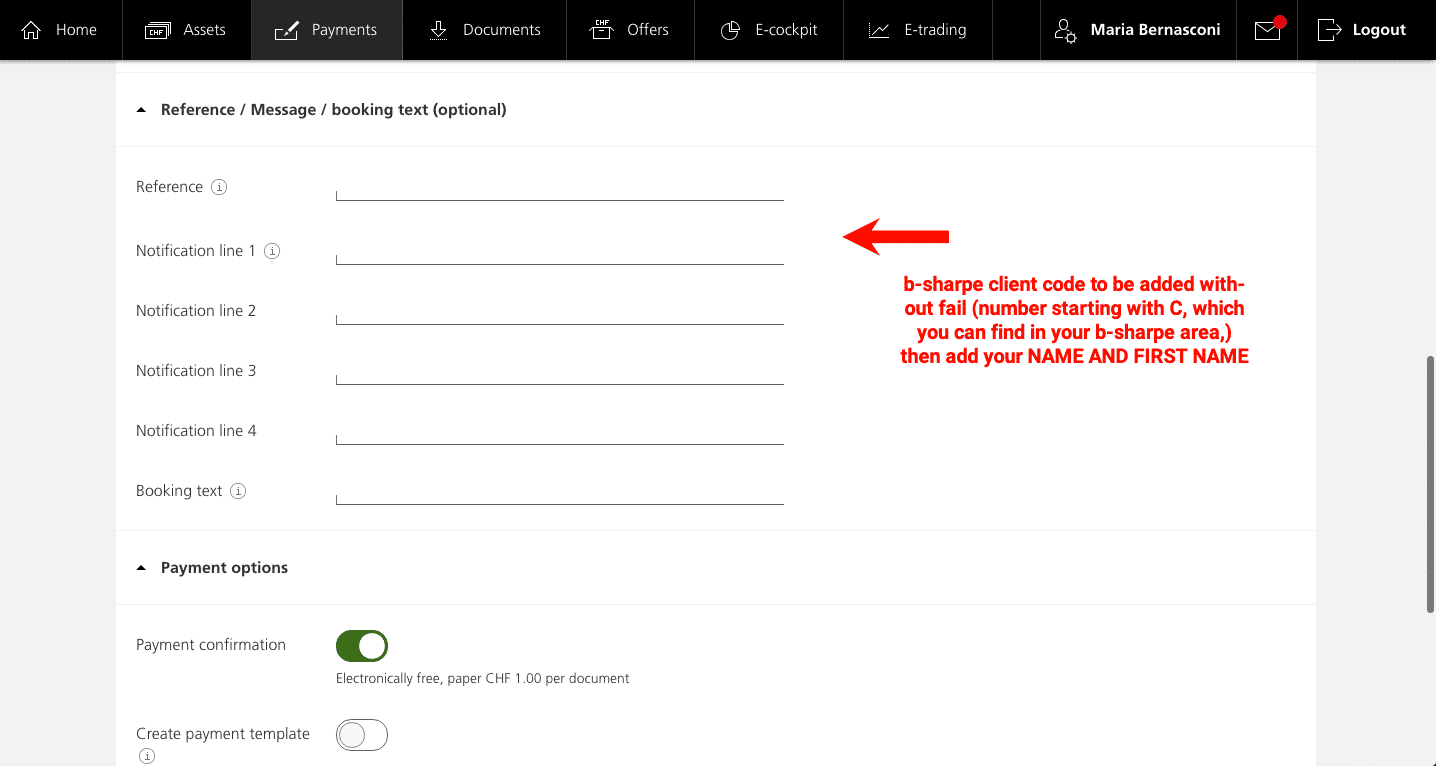 How to automate a transfer from a PostFinance account to b-sharpe
To automate a transfer from a PostFinance account to the b-sharpe account:
Click on "Transfer" in the main menu
In the "Standing order" window, click on "Domestic" to make a transfer from a Swiss franc account to the b-sharpe Swiss franc account

Saisissez ensuite :
The account to be debited (your PostFinance account in CHF)
therecipient's IBAN: le compte de b-sharpe que vous trouverez dans votre espace client
The amount amount that you wish to exchange and send to us
Currency: indicate CHF to send Swiss francs to b-sharpe